Wondai runner wins Queensland endurance event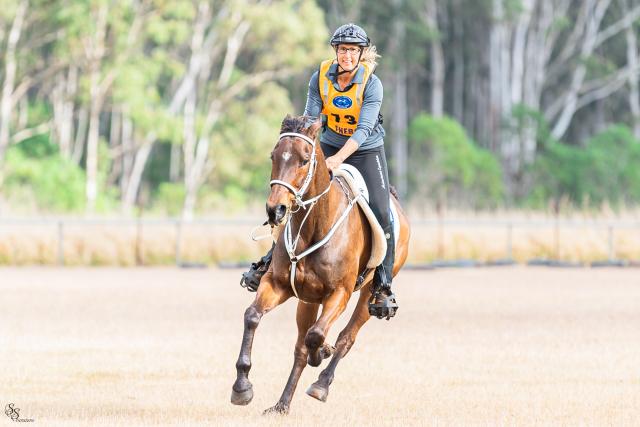 PRECEDE
Victoria Barber is proving to be a champion in the truest sense of the word, as ERLE LEVEY reports.
STARTING QUOTE
"I'm still learning from the horses…they teach us every day. »
Rider, trainer and breeder of Wondai endurance horses, Virginia Barber is a champion in the truest sense of the word.
Not only does Virginia encourage other riders to participate in the sport, but she is now the 2022 Queensland Endurance Riding Association (QERA) State Champion.
Held at Tepon Equestrian Park, Herberton on the Atherton Tablelands, the Championships saw strong representation and results from riders from across South Queensland.
For Virginia, riding La Belle Amour, the combination won the 100-mile middleweight division, best-conditioned horse, and state title.
It was a double, double win as daughter Georgie and fellow Mainstreme Equestrian rider Ellie-Rose Bowden tied for first in the junior division.
Shelley Chapman of Kilkivan of Shanelli-Park Endurance, won the lightweight division, riding Box Hill Nitro, and won the best conditioned horse.
Shanelli-Park Endurance's Jarrah Kelly on Picnic Park Smart Return became an Open runner in June and has now completed her first 160km event, not only finishing but also receiving a junior third.
This combination never wavered during the very long night on an extremely difficult track.
The North Queensland race also saw four competitors claim the Triple Crown – Ellie-Rose Bowden on Silver Centurion, Georgie Barber on Concerto, Tracey Eastaughffe on Moondarra Elton and Alana Simpson on Meea.
To earn the Triple Crown, a rider, combination of horses must complete a QERA-affiliated marathon, Tom Quilty Gold Cup, and QERA State Championships in a single year.
New state champion Virginia was riding on a back track in Wondai when I spoke to her.
A member of the QERA committee, she juggles her own love of riding with lessons for all ages and abilities. Still, Virginia specializes in National Disability Insurance Scheme (NDIS) clients…those with challenging physical or mental conditions.
At the end of December, she will host and run a junior training camp for up-and-coming riders at the Wondai property.
With people like Virginia encouraging other runners, there is an increase in people getting into the sport.
Having started riding at the age of 10, Virginia says she is lucky to live her passion.
"I'm still learning from the horses…they teach us every day. »
The mare she rode in North Queensland was La Belle Armour.
Virginia got her back a few years ago because "Belle" was a bit too much for the owner.
"Friends suggested she would suit me because she was too fiery for dressage.
"They have to want to do their sport. She didn't like dressage so much as endurance.
"Horses are the same as us in that regard. You have to want to do it.
"They have so much love and affection.
"In endurance, you quickly realize that you can't go the distance unless you have a relationship.
"You're hot, you're tired, and so are they…but they keep going when asked.
"There aren't many other sports that do that."
For the championship race at Herberton, the start was at 9 p.m. to make the most of the cooler night conditions.
"We weren't expecting too much heat," Virginia said.
"The course was very hilly, rocky… a very technical track.
"There was no rain.
"It was through different forests – rainforest, eucalyptus – and then some nice open bush with cool streams.
"Being a 160km event, I decided that my mare would rather go alone than with other riders.
"The plan was that I would ride the horse and the two girls – Georgie and Ellie-Rose – would stay together."
Virginia likes to take the first leg of the course regularly because of the long way to go, but to stay as close to the first as possible.
"There is no need to win before the second leg and the last leg.
"Completion the name of the sport…results make it better."
There was an 81.25% completion rate in the 160km event.
It was the first state title for Virginia, after finishing second in a canter finish to Bowen in 2019.
For Georgie Barber and Ellie-Rose Bowden, they started the 160km event together and that's how they finished – tied for first in the junior division.
"They've been best friends since they were seven years old," Virginia said.
"Ellie-Rose is part of the family – she does a lot with us.
"Georgie loves doing tough jobs and getting results."
As well as chasing the state title in the junior division, both girls were aiming for the Triple Crown, but as well as finishing all three specific events in the same year, Georgie and Ellie-Rose were placed in all of them – first at the Stirlings Crossing Marathon, second at the Tom Quilty and now first at the State Championships.
"You have to try really hard to do all three races rather than placing in every event," Virginia said. "They did incredibly well. »
In Herberton, Virginia, Georgie and Ellie-Rose were aided by Mark Nimon, with Casey Clarke as strapper.
"It took a team effort to get three horsepower around 100 miles."
DISTANCE OF THE COURSE: 160.0 KM
Heavy weights
1. Briony Ledingham and Brynjell Phoenix (best conditioned horse). 2. Amanda Godden Rides Duray Peregrin Toak
Average weight
1. Virginia Barber, La Belle Amour (best condition). 2. Saasha Grogan, Halo Rhapsody In Blue. 3. Tracey Eastaughffe, Moondarra. 4. Sue Vacher, Miva Zamil.
Lightweight
1. Shelley Chapman, Box Hill Nitro (best condition). 2. Alana Simpson, Meea. 3. April Murphy, Aloha Desert Thor. 3.Clare Fleming, Amarin Brindi.
Junior
1. Georgie Barber, Concerto (best condition). 1. Ellie-Rose Bowden, Silver Centurion. 3. Picnic Park smart comeback Jarrah Kelly.