The Strad Reviews – Concert Review: Avi Avital (mandolin) Brooklyn Rider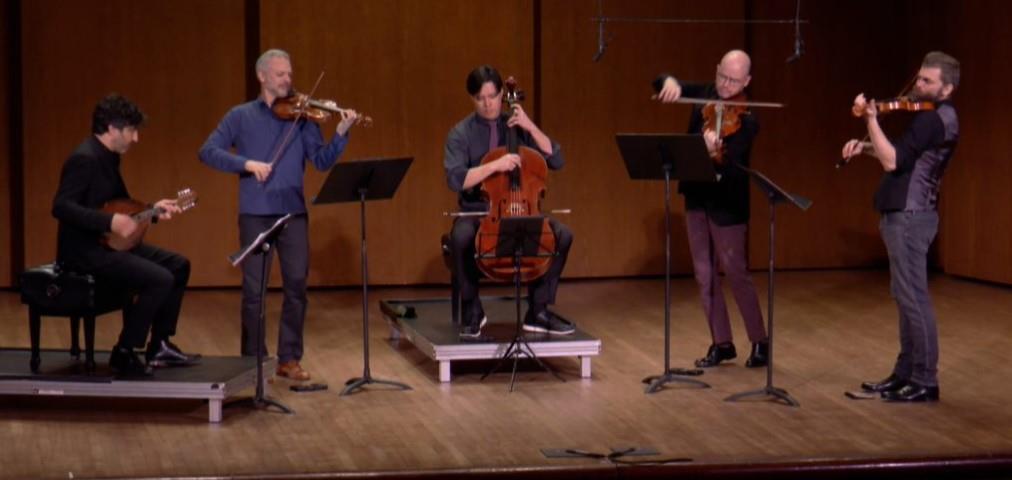 Dennis Rooney attends Kaufmann Auditorium, 92nd Street Y, NY, March 15, 2022 for a concert by Boccherini, Osvaldo Golijov, Clarice Assad, Caroline Shaw, Colin Jacobsen and Lev Zhurbin
Brooklyn Rider is the unconventional name of a string quartet created 15 years ago and focused on the crossing of musical genres. This Kaufmann Concert Hall program included six new works and one old one, all unknown. Mandolinist Avi Avital joined the band for the overture, Boccherini's evocative moonlit journey for string quintet, La musica notturna delle strade di Madrid. The Avital mandolin lent new colors and the players obviously enjoyed themselves. Avital then performed Prelude by Italian cellist and composer Giovanni Sollima (b. 1962) which, although originally for cello solo, sounded perfectly idiomatic on the mandolin.
Entr'acte for string quartet by Caroline Shaw (born in 1982) dates from 2011 and is inspired by an interpretation of a quartet by Haydn; the result is an imaginative study of sound, using techniques such as homophony, pizzicato and ostinato. Avital returned for Time and Again, a recent work by Brooklyn Rider co-founder and frontman Colin Jacobsen (b. 1978) in which three musical ideas are worked out in extended sonata form, but the character of the work is a freewheeling mix of Balkan, Greek and Turkish styles alternate with a more freely atonal script.
The Afro-Brazilian religion Umbanda inspired Obrigado (2011) by Brazilian composer Clarice Assad (b. 1978), an eleven-movement suite that depicts a succession of deities and their particular qualities. Sung melodies, over varied rhythms, and some complex but often popular dances produced an attractive vehicle for an engaging performance. The premiere of Arum der Fayer ("Around the fire") by Osvaldo Golijov (b. 1960) followed, in which a Yiddish song was treated sequentially; this prompted the musicians into a vigorously virtuosic performance, as did the piece by Lev Zhurbin (b. 1978), which concluded the program. Players returned for Little Birdie, arranged by Pete Seeger, as a brief encore.
DENNIS ROONEY