Spring Creek MX: Fourth consecutive victory for Tomac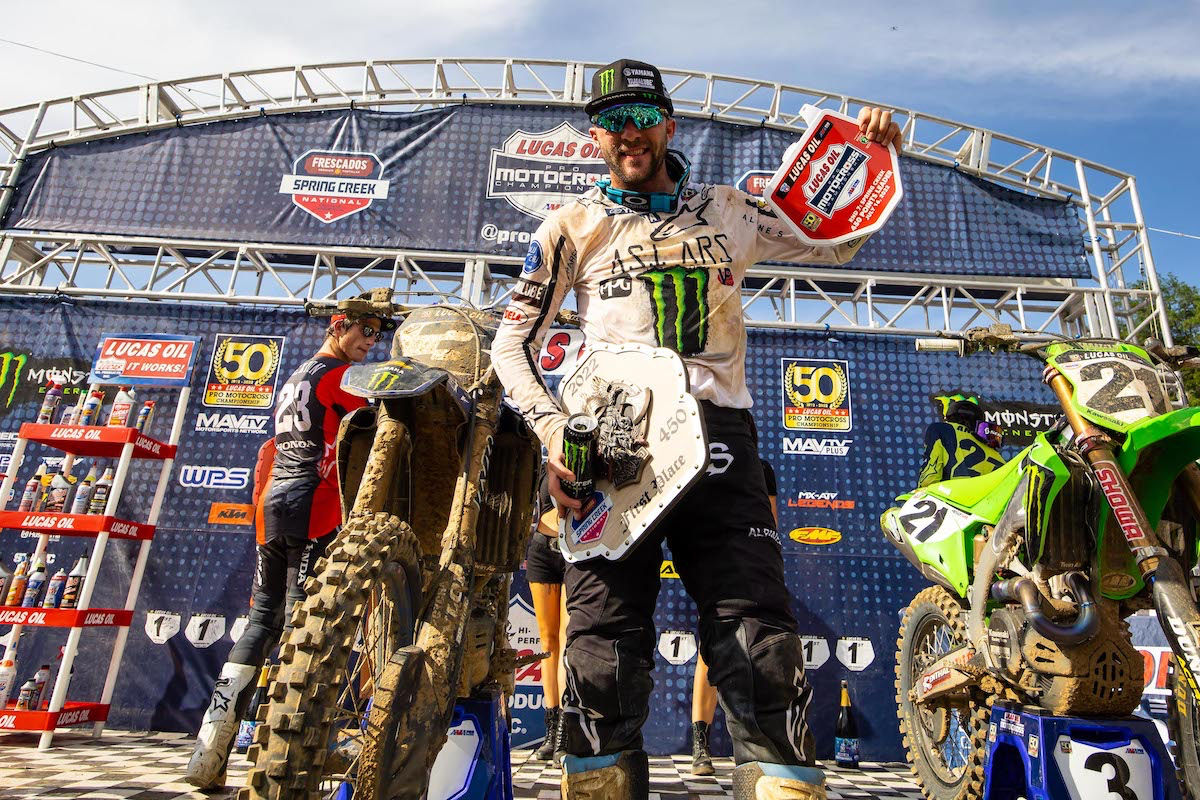 Lucas Oil Pro Motocross kicked off its second half of the summer season from Minnesota's famed Spring Creek MX Park.
The Frescados Tortillas National featured one of the most dynamic racetracks in American motocross and it provided a thrilling afternoon of competition that saw Monster Star Yamaha Racing's Eli Tomac storm to his fourth straight 450 class win after another 1-1 moto sweep that propelled him to the top of the points standings.
450 class leaders Tomac and Team Honda HRC's Chase Sexton emerged ahead of the pack to start the opening race, but it was Monster Energy Kawasaki's Joey Savatgy who walked away with the MotoSport.com Holeshot , only to lose his mind to Tomac . A brief battle for third place between Sexton and Red Bull KTM Factory Racing's Ryan Dungey saw the Honda rider secure the position and go on the attack for second place. Savatgy came down and dropped outside the top 10, which propelled Sexton into second, Monster Energy Kawasaki's Jason Anderson into third and Dungey into fourth.
A showdown between the top two runners in the division took shape, as Sexton began to close the gap. Tomac responded and stabilized the lead as the bike reached halfway. Fifteen minutes into the race, Sexton attacked and pulled the trigger to make the lead pass as they navigated one of the steep downhill sections of the track. Tomac responded and joined Sexton, but the Honda rider fought back to establish his grip on the spot. Sexton then sprinted to a lead of several seconds.
Sexton seemed to have control of the bike but missed a rut on one of the descents of the track and went down which put Tomac back in the lead with less than 10 minutes to go. Sexton was able to move up to second position but faced an insurmountable deficit. Tomac earned his sixth straight moto victory by a margin of 14.4 seconds over Sexton. Anderson followed in third, with Dungey fourth and Monster Energy Star Yamaha Racing's Christian Craig in fifth.
Race two of the 450 class started with Savatgy leading the MotoSport.com Holeshot, with Honda HRC's Sexton and Ken Roczen chasing him while Tomac followed from fourth. Sexton immediately attacked and fought his way into the lead before the end of the first lap as Roczen quickly followed for second place. Tomac then aggressively placed third and set his sights on the Hondas.
Tomac stalked Roczen for one lap and made an impressive move to take control of second. Less than two seconds separated the leading pair but Tomac did a quick job of erasing that deficit and quickly applied heavy pressure on Sexton. A relentless Tomac made an impressive move to take the lead from his rival and looked to check with a searing lap. While Tomac's pace was unmatched, Sexton was able to keep him honest and kept the Yamaha within striking distance. This allowed the two riders to get away from the rest of the peloton.
Behind the leaders, the battle for third place heated up between Roczen and Craig. The Yamaha rider was patient and took advantage of his first opportunity to claim the position and step onto the podium. Roczen then lost his fourth place finish to Anderson, who then looked to reunite with Craig for third place.
As the bike entered its final five minutes, the gap between Tomac and Sexton hovered around a second, with swings in momentum favoring one rider or another as they worked through traffic. As time ticked away on the bike, both riders let it all hang out for the final two laps. Sexton closed in early on the final lap, but Tomac didn't put on a bad wheel and pulled away in the closing corners to wrap up his seventh straight moto win by 1.7 seconds. Craig finished a distant third.
Globally
Tomac's mid-season dominance continued with his third consecutive 1-1 performance, which resulted in his fourth consecutive overall win and 31st victory of his career. Sexton's unblemished podium streak continued with his seventh straight for second place (2-2), while Anderson secured his third podium of the season in third (3-4).
Tomac's streak saw him take control of the championship lead for the first time in 2022, where he now has a five-point lead over Sexton. Anderson's podium lifted him to third place in the standings, 72 points off the lead.
"It was crazy, running at this pace all the time [in Moto 2]. I had my work cut out from the start and had to do a few overtakes," Tomac said.
"I was able to go through Chase [Sexton] early and it was huge. We made some changes to the bike in the second moto that really helped me and allowed me to put the bike where I wanted.
Overall Class 450 Results (Moto Finish // Points)
Eli Tomac, Cortez, Colorado, Yamaha (1-1 // 50)
Chase Sexton, La Moille, Ill., Honda (2-2 // 44)
Jason Anderson, Edgewood, New Mexico, Kawasaki (3-4 // 38)
Christian Craig, El Cajon, CA, Yamaha (5-3 // 36)
Ryan Dungey, Belle Plaine, Minnesota, KTM (4-6 // 33)
Justin Barcia, Monroe, NY, GASGAS (6-5 // 31)
Aaron Plessinger, Hamilton, Ohio, KTM (7-7 // 28)
Benny Bloss, Oak Grove, MO, KTM (9-10 // 23)
Shane McElrath, Canton, NC, Husqvarna (10-11 // 21)
Joey Savatgy, Thomasville, GA, Kawasaki (17-8 // 17)
Class 450 Championship Standings (Round 7 of 12)
Eli Tomac, Cortez, Colorado, Yamaha – 317
Chase Sexton, La Moille, Ill., Honda – 312
Jason Anderson, Edgewood, New Mexico, Kawasaki – 245
Ken Roczen, Germany, Honda – 241
Christian Craig, El Cajon, CA, Yamaha – 220
Ryan Dungey, Belle Plain, Minn., KTM – 218
Justin Barcia, Monroe, NY, GASGAS – 190
Aaron Plessinger, Hamilton, Ohio, KTM – 177
Joey Savatgy, Thomasville, Ga., Kawasaki – 142
Shane McElrath, Canton, NC, Husqvarna – 139
MORE READING…