Rider Announces First Recipients of MacMillan Scientific Fellowship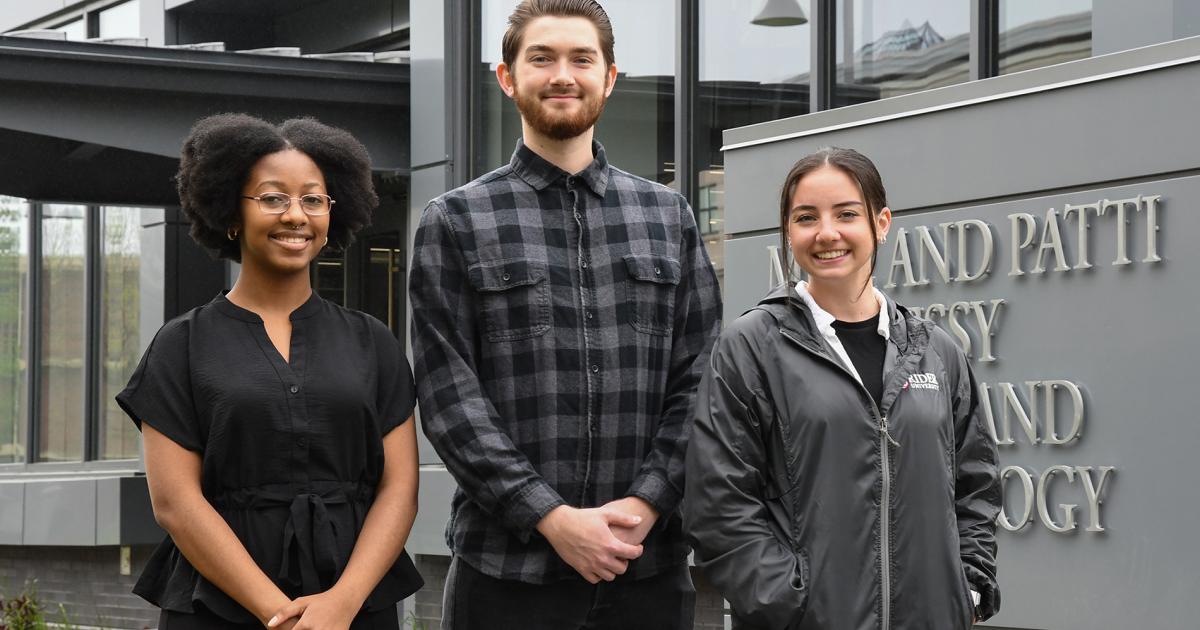 Rider University has announced the first recipients of the MacMillan Scientific Research Fellowship, a fellowship that provides funding to undergraduate students conducting research in science and technology.
This academic year's recipients are senior Eric Eaton, a computer scientist who studies traffic data using artificial intelligence; Hailey Senior, a health science student exploring lab techniques for assessing carotid blood flow; and Stessie Chounone, an environmental science student studying tree ring measurements to explore climate change in Southeast Asia.
Students will each receive a $3,000 stipend for research conducted during the summer term and a $1,500 stipend to work on their research during the academic year. They were selected by a committee of faculty members, including Drs. Alexander Grushow, John Guers and Gabriela Smalley.
"This scholarship allows our students who have not had the opportunity to conduct research to focus solely on their research project, without the burden of additional student employment or other financial issues," said the Dean Kelly Bidle. "Lack of funding is one of the main reasons given by students for not pursuing their research. Undergraduate studies are enriched by working early and often in the laboratory.
At Rider, undergraduate science and technology students have the opportunity to conduct independent research under the guidance of expert faculty. Students gain knowledge and experience using advanced techniques not usually introduced until graduate school.
Student riders can begin working in faculty labs in their first year. This type of hands-on experience promotes critical thinking and further develops analytical skills, broadening and deepening classroom learning.
"Working directly with faculty in classrooms and faculty research labs, our students have co-authored research papers and presented findings at national professional meetings and conferences," says Bidle. "We are proud that such opportunities allow our students to gain admission into the graduate programs of their choice."
In recent years, Rider students have gone on to study at Johns Hopkins University, University of Pennsylvania, Yale University, Brown University, Princeton University, Vanderbilt University, Scripps Research Institute, and Harvard University, among others.
The MacMillan Scientific Research Fellowship was established through a generous gift from the MacMillan Family Foundation, Inc.
"We believe that scientific research is the key to discovering and improving lives, and we are pleased to offer talented Rider students this unique research opportunity," says Nancy MacMillan '77, who earned her MBA of Rider.
Her family's foundation, established by Nancy and her husband Duncan MacMillan of Princeton, supports projects in health care, social services, medical research, the arts and higher education.
The foundation's support for Rider also included funds for the purchase of scientific equipment, including the University's SynDaver, a life-size model of the human body where students can harvest organs, perform dissections and visualize structures and connections of major body organ systems. The model, located in the newly expanded and renovated Mike and Patti Hennessy Science and Technology Center, replicates the feel and look of human tissue. Rider is the only four-year college or university in New Jersey to have a full SynDaver.
The University prepares students for success by offering small class sizes, collaborative relationships with faculty, and research opportunities. Rider offers 17 science-based programs, including new bachelor's degree programs in computer science, cybersecurity, and exercise science and an online master's degree program in cybersecurity.