KTM openly hints at Oliveira demotion and other rider talk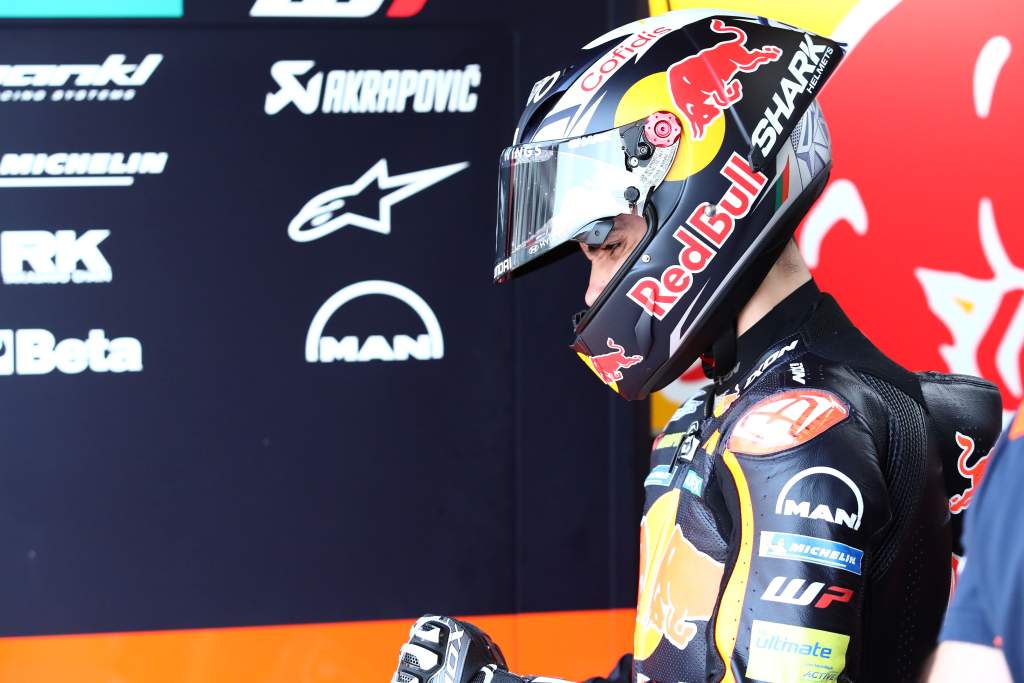 KTM motorsport boss Pit Beirer has admitted his brand is in talks with three riders from rival teams for the 2023 MotoGP races – and confirmed that a Tech3 downgrade for works rider Miguel Oliveira was a possibility.
Oliveira, who was brought into MotoGP with KTM's Tech3 satellite team before being promoted to the factory line-up in 2021, has won a record four races for KTM but has also been erratic in form compared to teammate Brad Binder.
And with top names potentially in the market, German publication Speedweek reported ahead of the Italian Grand Prix at Mugello that Oliveira is likely facing a likely return to the Tech3 lineup for 2022.
Speaking to MotoGP.com during free practice at Mugello, Beirer didn't go so far as to confirm it, but acknowledged it was a possibility.
"We've had this discussion internally and it's not that he's confirmed for Tech3 but I told him we're talking to other riders and want to be really open, a bit later in the year. , to decide which driver will be there," Beirer said.
"And there's also a chance that he could upgrade to Tech3. And that's all I told him. And I told him to be aware of that.
Beirer said he "didn't want to use an option" to tie Oliveira to Tech3, suggesting either an option in Oliveira's existing KTM contract or one in any deal KTM offers him for the next year. which would leave the brand free to place him in either of its MotoGP teams – as title sponsor Red Bull does with its Formula 1 contracts.
"I made it clear to him that KTM would make him an offer, we want him to stay a KTM guy but there could be an option, he has to be open to be in one of those four spots," Beirer said. .
"That's all I told him – and he wasn't super happy with that information.
"On the other side I saw that I had a very good response with him saying he wanted to stay with KTM, so on our side he is and will remain a KTM rider."
---
Get all the latest news from the Mugello MotoGP paddock plus live updates from qualifying and the Italian GP in The Race Live Hub – plus coverage of the F1 Monaco and Indianapolis 500 GP
---
When asked if he could confirm that KTM was in talks with Ducati's Jack Miller, Honda's Pol Espargaro and Suzuki's Alex Rins, Beirer replied, "Yeah, I mean I can just confirm that we're talking to the guys we mentioned, which is also always an honor for us, to say 'OK, the good guys are watching and we're talking' – and that's the situation right now.
"Looks like the market is quite open, there's a lot going on in the paddock – it's time to stay on top and try to put together the driver package for the future."
With the uncertainty not only over the future of Oliveira but also that of Tech3 rookies Raul Fernandez and Remy Gardner, it could be that KTM is looking to welcome more than one of the three aforementioned names.
Beirer concluded that KTM "will have to wait a few weeks, I think, to finalize a full lineup."
Thank you for your opinion!
What did you think of this story?