'In Bo-Bo We Trust:' Exercise Rider Brigmon Manipulates Smith's Stars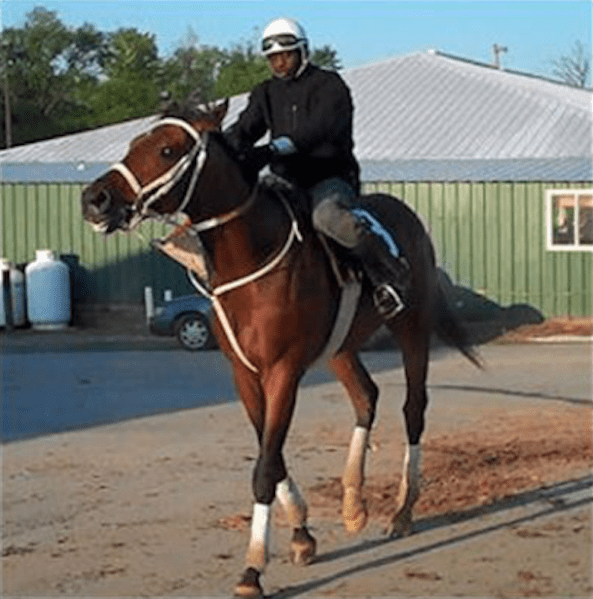 BALTIMORE – Ten years after going to the Kentucky Derby (G1) with one of Hamilton Smith's best colts, James 'Bo-Bo' Brigmon finds himself at the historic Pimlico Race Course for the Preakness weekend with the one of the trainer's best fillies.
Brigmon is the regular exercise rider for Luna Bellethe star of Smith's stable who is riding a five-game winning streak – all in play – in Friday's $250,000 Black-Eyed Susan (G2), where she is the second pick in a field of 13 with a morning odds of 9-2.
From the 3-year-old filly, Brigmon has the same feeling he had about 3-year-old winner Done Talking, who took the team to the 2012 Derby.
"It's good. I like it, especially with the beautiful horses when they walk out there and you can smell the horses and they know it's something good for them," Brigmon said. "Luna Belle came out this morning, she kinda puffed up and she was looking at people and had her ears pricked up and I was like, 'She knows something's going on.' It's good to ride them like that, the feeling they give you while strolling and galloping.
Owned by Deborah Greene and Smith and raised in Maryland by Smith, Greene and her late father, Fred Greene Jr., Luna Belle galloped down the main trail on Wednesday, her first morning in Pimlico after making the short trip from Laurel Park where Smith is based. She left shortly after the break, around 8:45 a.m., and Smith plans to do the same on Thursday.
"When they went to the track he backed it all the way to the back and then they galloped around the wire. She was pretty aggressive the first time around and kind of had her head held high, wanting to do a little more than necessary," Smith said. "She settled back in and the rest of the way was fine. She has always been aggressive in her gallops. She's not really trying to run away, but he's got her pretty well. That's why I keep it on her all the time.
In fact, Brigmon has been Smith's go-to rider since they started working together 22 years ago. Brigmon, now 45, grew up near the Elloree Training Center in South Carolina, owned and operated by Smith's older brother, Frank, known as Goree.
"It started with my brother there, born and raised just outside the training center. He was going out there and on the weekends and after school and stuff and snooping around and picking up trash and stuff the little kids could do, and then he got into horses," Smith said. "When he got big enough, when he started working as one of the grooms, he kind of took the boys to the gallop. He thought they were having more fun than him. He wanted to learn to gallop, so my brother taught him to gallop.
" He does everything. He's a great groom, a good practice rider – he can do it all. He could train on his own if he wanted to," he added. "I can trust him with everything."
"I started working on the farm for Mr. Goree when I was 13 or 14 years old. My school bus was passing by his brother's farm," Brigmon said. "One day my cousin and I said, 'We should go and ask for work.' It was summer coming up, so we walked in and asked for a job and they said, "Come outside." We started helping them in the summer, then we started going out after school and it went from there. He started sending me on the road with Hammy and his son Greg, then I came to Maryland and stayed with Hambone.
Brigmon embraces racetrack life, so much so that after spending mornings training horses for Smith, he works as a valet during live race afternoons at Laurel and Pimlico for jockeys Feargal Lynch, Charlie Marquez, Bryson Butterfly and the injured Sheldon Russell. He will pick up two-time Eclipse Award winner Luis Saez and Julien Leparoux during the Preakness weekend.
"I love it," he said.
Jockey Denis Araujo has been aboard Luna Belle throughout his streak and will have a head start on Friday. Brigmon will be watching from the edge of the track, knowing that the foundation he gave her each morning contributed to her success.
"It's just nice to have her. She's a nice filly," he said. "She's cool. She's a smart horse and she's laid back. She doesn't care about anything. She's just professional.
Maryland Jockey Club Press Release
Photo of James "Bo-Bo" Brigmon riding Done Talking before the 2012 Kentucky Derby by Scott Wykoff.